Seychelles

Africa is one of the most beautiful continents in the world. From the gorgeous wild animals to the ancient history, many of the countries in Africa are absolutely worth seeing
Seychelles
If an exotic Seychelles cruise is what you have always dreamed of, you are in the right place. Seychelles is the perfect destination for both summer and winter cruises due to its warm climate. Discover this paradise on onboard Variety Cruises' Pegasus and experience a unique island-hopping voyage. We have specially designed three itineraries that you can choose from, according to time available and budget. Cruise Seychelles from Mahe or Praslin and explore the extraordinary fauna and flora within a luxury yacht environment. Our Seychelles cruises are full of wonderful excursions that will give you the chance to dive into a breathtaking underwater world, walk through tropical jungles and capture heaven beaches.
Mahé
With a backdrop of towering 1000m granite peaks, Mahé is an extraordinary treasure trove of flora that has evolved over centuries of splendid isolation.
Rare endemic plants found nowhere else in the world adorn Mahé's mist forests in mountain strongholds, such as the Jellyfish Tree, the carnivorous Seychelles Pitcher Plant and the Seychelles Vanilla Orchid.
Praslin
Praslin is the site of the fabulous Vallée de Mai, one of Seychelles's two UNESCO World Heritage Sites. The island features truly exquisite beaches such as Anse Lazio and Anse Georgette, both appearing on the top-10 list of world's best beaches in recent years.
La Digue
Apart from hosting the Seychelles' black paradise flycatcher, one of the rarest birds on earth, La Digue's biodiversity features such stars as the chinese bittern, cave swiftlet, waxbill as well as two rare species of terrapin. La Digue's forests also contain a wealth of flora in the form of delicate orchids, tumbling vines of vanilla, as well as trees such as Indian almond and takamaka. Gardens blaze with hibiscus and nepenthes against a backdrop of swaying coconut palms.
La Digue is an island where time stands still and time-honoured traditions such as travelling by ox-cart and bicycle are still king. Traditional methods of boat building and refining of coconut products (copra) are still practised on La Digue.
The friendly atmosphere of this intimate island with its languid pace of life, traditional architecture and breathtaking beaches, such as legendary Anse Source d'Argent, is an absolute must for visitors.
Aride
Aride, perhaps the most unspoiled of all the islands and is known as the 'seabird citadel' of the Indian Ocean. Aride's seabirds include the world's only hilltop colony of sooty terns, the only breeding sites among the granitic islands for the red-tailed tropic bird and roseate tern and the world's largest colony of lesser noddies.
Aride also boasts one of the densest population of lizards on earth and a unique flora, being the only natural home to one of Seychelles' rarest endemic plants, Wright's gardenia, as well as to a species of 'peponium' that might also be endemic only to Aride.
Cousin
Cousin lies just off the southwest coast of Praslin, just next to its island neighbour Cousine. Cousin is a special nature reserve home to some of Seychelles' rarest birds, such as the Seychelles bush warbler and the Seychelles magpie robin.
Cousin is one of nature's treasure troves where every year 250,000 birds nest, among them the Seychelles sunbird, red turtle dove and moor hen. The island is also home to many fairy terns, noddies, frigate birds and shearwaters as well as being a place where certain species such as the Seychelles bush warbler have recovered from the edge of extinction.
There is a population of geckoes on the island, giant tortoises introduced from Aldabra and Cousin is also a favourite nesting site for hawksbill turtles.
Curieuse
Once known as Ile Rouge on account of its red earth, Curieuse was eventually named after one of explorer Marion Dufresne's vessels which explored the islands of the Praslin group in 1768.
This rugged island was once home to a leper colony situated at Anse St. Joseph, and whose resident doctor's house dating back to the 1870's has recently been converted into an eco-museum and visitors centre.
Aside from Praslin, Curieuse is the only other island where the Coco-der-mer grows naturally, and also boasts an endemic vine and eight different species of mangrove. Today Curieuse is home to an exciting giant land tortoise rearing project. The island is also an important nesting site for hawksbill turtles.
Félicité
This picturesque and steep granitic island was a coconut plantation up to the 1970s and supported a population of some 50 people. In the late 19th century, Félicité was home to the Sultan of Perak, one of Seychelles' most colourful exiles, who spent five years on the island before moving to Mahé.
Moyenne
This beautiful, 10 hectare island is awash with tales of concealed treasure and the ghosts who have remained to guard it, presumably arising from the time when it was a pirate haunt.
The island was once owned by an eccentric English lady, Miss Emma Best, and her menagerie of stray dogs and other animals. From 1915 to the early 1970's the island was abandoned before being purchased by the late Brendon Grimshaw, an English newspaper editor who restored the island into an easily accessible tropical garden, where he lived Robinson Crusoe-style.
The island offers excellent swimming, snorkelling and trekking - a leisurely stroll around the island will take approximately 1 hour. There is no hotel accommodation offered on Moyenne, but excursions can be arranged through local ground handling operators.
St. Pierre
This tiny islet with its granite profile interspersed with coconut palms has come, over the years, to represent the quintessential Seychelles island, appearing in numerous advertisement campaigns, posters and photographs.
Once home to a number of Coco-de-mer that grew naturally on the island, St. Pierre is a firm favourite with swimmers, snorkellers and yachtsmen for whom the island provides the ideal backdrop to a spectacular Seychelles sunset.
Cruise season
Cruises in the Seychelles are year round with the exception of July.
Main ports
Cruises depart from Mahe and Praslin.
Weather
As the Seychelles islands are blessed with a year-long warm, tropical climate, it's always a good time to visit, although different times of year may be better suited to your particular interests.
Two opposing trade winds generally govern the weather pattern: the north-westerly trades blow from October to March when wind speeds average from 8 to 12 knots; and the brisker south-easterly trades blow from May to September with winds of between 10 to 20 knots, bringing the cooler and windier conditions ideal for sailing.
The periods of calm between the trades produce fairly warm and wind-free conditions throughout April and also in October. Conditions for swimming, snorkelling and especially diving are superb during April/May and October/November when the water temperature sometimes reaches 29ºC and visibility is often 30 metres plus.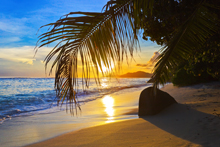 Sunset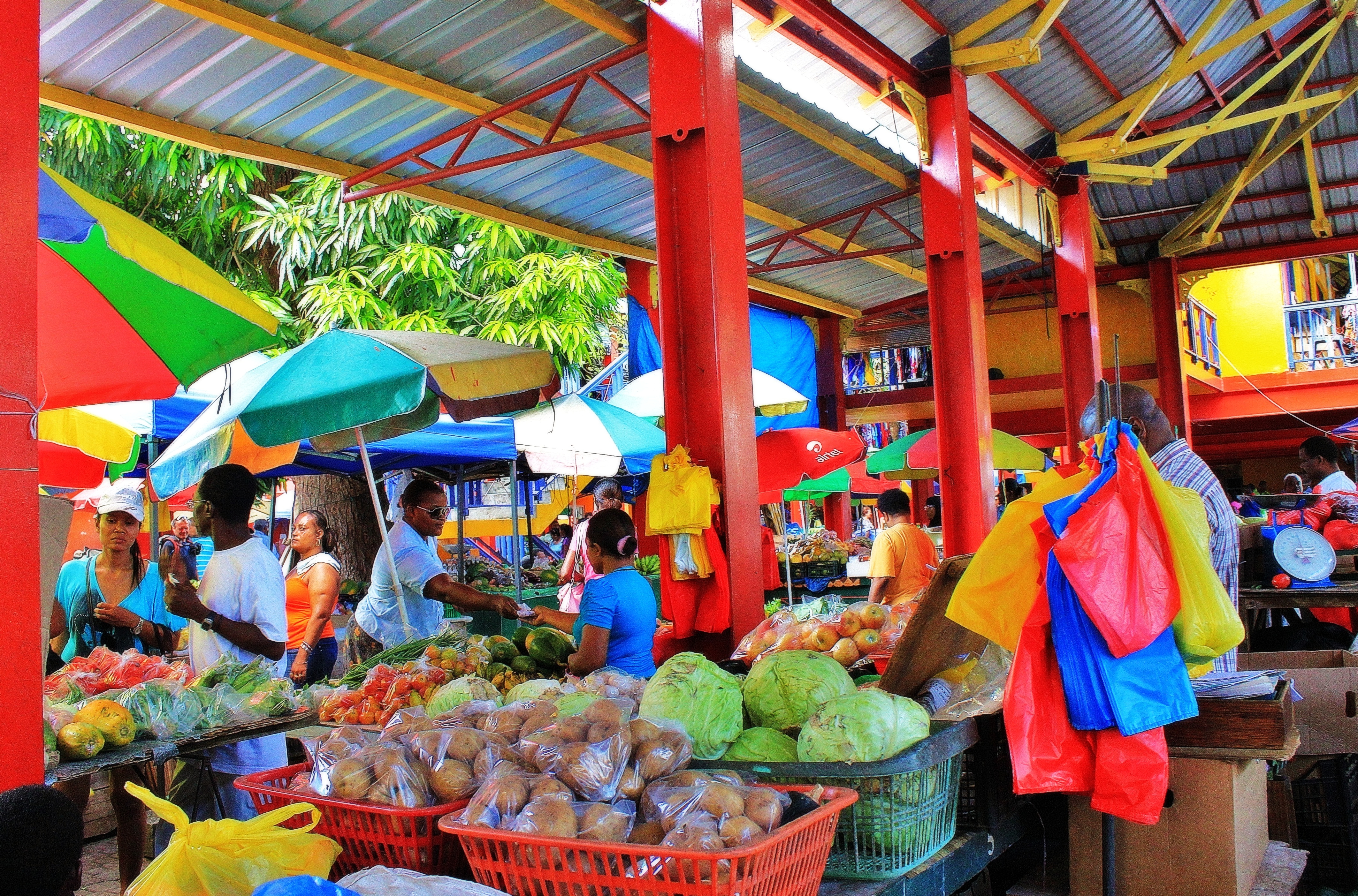 Market in Seychelles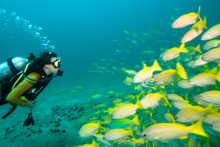 Diving in Seychelles
Need Assistance?
Our team is at your service to help you
011 463 5251
Or send us an email